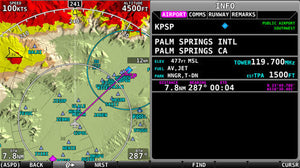 SV-MAP-270 Navigation Mapping Software Certificate
101602-000
When

 

checking out, please provide your SkyView display type

 

(ex. D1000 or D700) and display serial number in the notes section.
Contact sales@dynon.com

 with any questions
(required for all VFR GPS Navigator functions in SkyView)
As of August 2016, NAVIGATION MAPPING software now included with the following DISPLAYS: SkyView Classic (D1000, D700), SkyView Touch, & SkyView HDX.
Note: Please allow up to 24 hours (longer if purchased on weekend) to receive the code via e-mail
The GPS Navigation Software is integrated into the SkyView System, available as a $200 upgrade. The SV-MAP-270 is a software only Module, and contains navigation functions such as Direct To plus the ability to view and navigate with airport, airspace, navaid, airspace, and obstacle data, and provides COM and NAV frequencies. The SV-MAP-270 also enables the display of base map features (roads, city names, railroads, river, and political boundaries).

MULTI-LEG FLIGHT PLANNING: Create and manipulate flight plans with multiple waypoints right on your SkyView display. Or, use any computer-based flight planner that supports the GPX file format to create flight plans at home!
SkyView can be set up to provide turn anticipation between flight plan legs. When configured this way, SkyView starts its turn guidance in advance of a waypoint to fly a transition that doesn't overshoot the next leg.
For times that a flight plan isn't needed "direct-to" capability is still as easy to use as it has been in previous Navigation Mapping Software version.
Free Trial: Every SkyView system comes with a 30 flight hour trial version of SV-MAP-270. (Note, even at the end of the 30 flight hours it will not shut off in flight, only after the next landing and restart.) Time on the ground learning the system does not count in the 30 hours.
Navigation Data Updates: Navigation and obstacle data for all world regions is available on a regular basis via an Internet download to your PC. The data is then transferred to your SkyView System via a USB Flash Drive.
US Data Updates: The US FAA data is available free from Dynon (the USA government provides it to us at a nominal cost), downloadable here..
Below are videos covering some of the many different features of the Moving MAP:
Video - Creating User Defined Waypoints

---
We Also Recommend