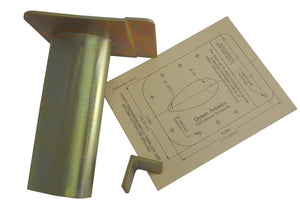 AOA/Pitot Mount Bracket
102813-000
NOTE: that this bracket was intended for use with Vans RV series aircraft. Although approved under the EAA STC, it may require significant modification for use in other aircraft.

Mounting bracket for Dynon Avionics AOA pitot tube, both heated and unheated version. (Profile for standard AN5812 pitot tubes.)
Kit includes a small support bracket and a cutting template for the skin penetration.

Fully installation instructions are included in the SkyView System Installation Guide.

===========
FAQ:
Which airplanes does this work with?

It was designed to be installed in the RV 7,8,9 and 10 but will most likely work with several other aircraft types. A small amount a modification might be required but the design is simple and can accommodate most aircraft designs

Will it fit any pitot tube or just the Dynon pitot tube?

The design accommodates the standard AN5812 mounting profile found on most pitot tubes.

It looks yellow, is it painted? What is it coated with?

The mount is made from aircraft grade aluminum and plated with a Gold Alodine(tm) to prevent corrosion and make it ready for paint. If you wish to polish it you can simply remove the finish with any aluminum polishing compound.

How does it mount?

Detailed mounting instructions are available through our website and are contained in the Pitot Tube Installation Guide. Dynon includes a cut-out template with each order.

Is it welded? I heard there were problems with welded pitot mounts.

Yes the assembly is welded. Dynon tested several different methods for attaching the parts together and using a large welded fillet was by far the best method.

How much does it cost?

$105, which includes the pitot mount, cut-out template and angle bracket.
---
We Also Recommend